SS Culture!
Look inside the heart and soul of the Schutzstaffel (SS)!
This SS Culture series is translated from the original SS publications – written by and for the SS. Many original illustrations are included. Ideal for collectors, history buffs and researchers.
Each softcover volume has 50 – 52 pages. $10.00 each.
Or COMPLETE SET of all Twelve SS CULTURE Books – only $95.00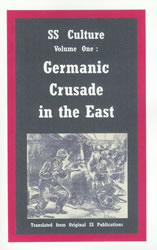 SS Culture - Volume One: Germanic Crusade in the East. Translation from the very first issue of the SS magazine "Germanische Leitheft" published in 1941 for the non-German Waffen-SS volunteers. Emphasis on Germanic kinship and the war against Russia. Reveals the heart and soul of the Third Reich's fighting elite. (Note: This is the one and only volume of this set that was actually published a few years ago, although with a different cover)
52p-sc $10.00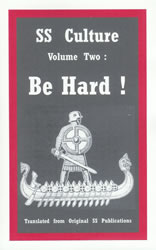 SS Culture - Volume Two: Be Hard! Translation from original SS publications. The articles are about being hard on oneself, being hard enough to withstand the war and, to a lesser extent, being hard against the enemy. The original illustrations are also included.
50p-sc OUT OF STOCK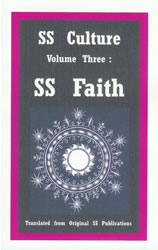 SS Culture - Volume Three: SS Faith. Translation from original SS publications. The articles are about SS "religiosity". The original Illustrations are also included.
51p-sc $10.00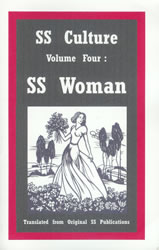 SS Culture - Volume Four: SS Woman. Translation from original SS publications. The articles extoll the ideal SS Woman as wife and mother. The original illustrations are also included.
50p-sc $10.00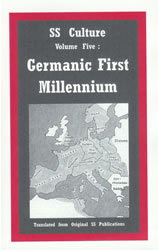 SS Culture - Volume Five: Germanic First Millenium. Translation from original SS publications. Starts at the time of the late Roman Empire and ends with the early First German Empire.
51p-sc $10.00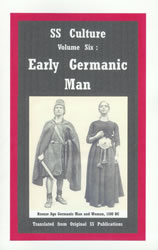 SS Culture - Volume Six: Early Germanic Man. Translation from original SS publications. Starts at 3000 BC, includes pre-Christian Germanic man's – and woman's – thought and values. also included.
50p-sc $10.00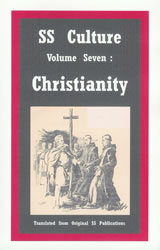 SS Culture - Volume Seven: Christianity. Translation from original SS publications. The articles are about the impact of the Christian church on Germanic man.
51p-sc OUT OF STOCK
SS Culture - Volume Eight: Saga and Song. Translation from original SS publications. The articles are primarily Nordic sagas and Germanic songs as well as articles about them.
51p-sc $10.00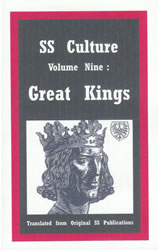 SS Culture - Volume Nine: Great Kings. Translation from original SS publications. The articles include Kaiser Friedrich II, Kaiser Heinrich I, Duke Heinrich II of Silesia, King Karl XII of Sweden, Geiserich and Fredrick the Great.
52p-sc $10.00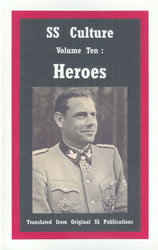 SS Culture - Volume Ten: Heroes. Translation from original SS publications. The articles included; Klaus Stoertebecker, Andreas Hofer, Captain Friedrich Hensel, General von York, SS-Obergruppenführer Eicke, Corporal Ofenbach, and unnamed assault gun crew,
SS-Unterscharführer Christiensen and SS-Brigadeführer Fritz Witt.
50p-sc $10.00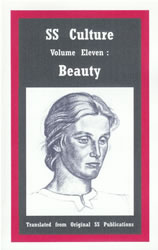 SS Culture - Volume Eleven: Beauty. Translation from original SS publications. The articles are about beauty, the arts and nature.
51p-sc $10.00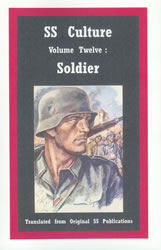 SS Culture - Volume Twelve: Soldier. Translation from original SS publications. The articles are about the virtues and world-view of the SS soldier.
50p-sc $10.00